The Company

NOTE: As of late 2006, Joyce has stopped pursuing faux painting projects and is concentrating on her watercolor art, which doesn't require climbing ladders.

Faux By Joyce is a full service interior design and decorating company providing professional assistance for the home or office. Although most small to medium jobs are performed by Joyce personally, we also have access to a substantial collection of painters, decorators, and designers throughout Florida to support larger efforts.

We consult as extensively as necessary with our customers to achieve the desired decorational effects, offering a wide variety of textures and designs to satisfy most needs and preferences.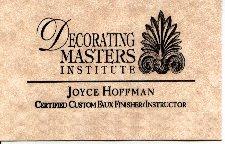 Faux by Joyce - Rockledge, Florida - 321.652.1491

2016: Moved to Boynton Beach, Florida

... decorative and faux painting throughout the glorious state of Florida

Joyce Hoffman, Owner/Operator

        - Certified Custom Faux Finisher/Instructor trained at the Decorating Masters Institute in Atlanta

         - Specializing in textures, murals, and Trompe L'oeil

         - Complementary expertise in oil/pastel art, craft techniques, and professional floral design

         - Will provide free consultation and price estimate at your home or office

         - References furnished upon request