Faux by Joyce

... decorative and faux painting throughout the glorious state of Florida

Click any picture for a Larger View!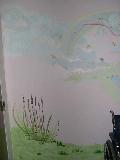 Below, the "ribbon" wall -- true, both walls have a ribbon, but it's more dominant on this wall. The rainbow is more dominant on the other wall.

About 50 miles South of Huntsville, Alabama, there's a large lake formed by the TVA damming of the Tennessee River -- Lake Guntersville. On the lake, you'll find the city of Guntersville, where Joyce was born and raised. Her mother lives there now in a very nice nursing home, where the people are caring and cooperative, and told Joyce she could decorate her mother's room in whatever manner she deemed appropriate. Joyce decided to start with Pink walls, then paint a dreamy sky with flowing clouds, ribbons, doves, butterflies, trees, and flowers. Below are photos of the two walls she painted, with the help of me and her sister, Linda (we did the gruntwork, while Joyce did the artwork). First, the "rainbow" wall: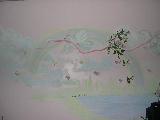 Three photos of the "rainbow" wall, looking from left to right.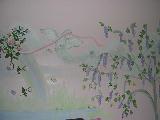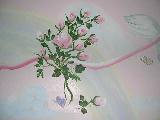 Close-up of the bouquet in the center of the wall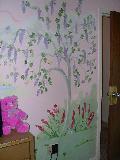 Close-up of the tree on the right side of the wall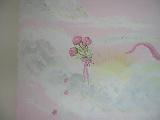 The flowing ribbon, with three doves on one end and the sun on the other