Faux by Joyce

... decorative and faux painting throughout the glorious state of Florida

Click any picture for a Larger View!

Click any picture for a Larger View!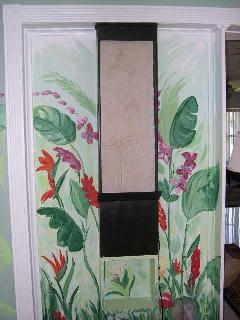 For those of you not from central Florida, you may not know where Indian Harbor is. Indian Harbor is one of several small towns on the beach just South of Cocoa Beach and Cape Canaveral. It's actually between Satellite Beach and Indialantic, just North of Melbourne Beach. It's mostly made up of classic Florida single-family homes West of U.S. Highway A1A and Condos and Hotels on the East side. This project involved redecorating the Florida room in one of those single-family classics. The owner was hesitant to venture away from her all-White walls, but decided to try some color. She was totally pleased with the results. Below, one of the main features of the Florida room was a continuously flowing waterfall in the wall, which she wanted to highlight with a floral mural.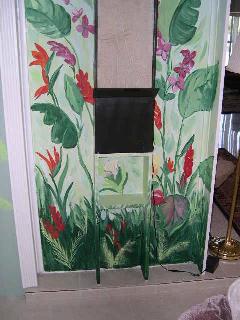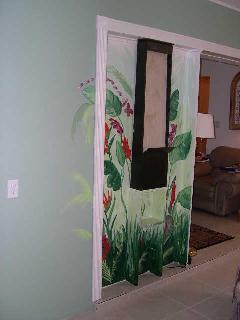 The wall with the waterfall and an adjacent wall were painted a light shade of Sage. The wall opposite the waterfall was done in stripes with the same light Sage, alternating with a darker shade of Sage.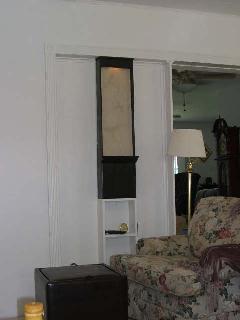 Two close-ups showing some of the details of the mural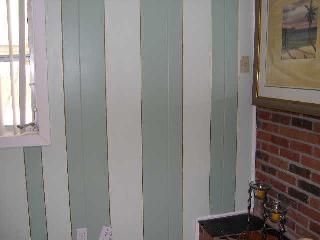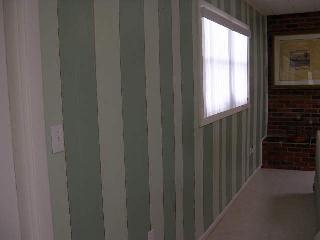 Wall waterfall with White background

Wall waterfall with mural background

Close-up of the striped wall adjacent to the brick fireplace

The striped wall lends a whimsical tone to the room