Faux by Joyce

... decorative and faux painting throughout the glorious state of Florida

Click any picture for a Larger View!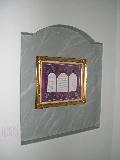 The Extra: Below, an antique trunk was ready for refinishing, but the owner wanted a "Florida" look. Joyce covered it with several coats of high-gloss pale Yellow, then accented with delicate Palm trees and a Gold metallic trim.

If you're not from Central Florida, you probably don't know that Viera is a somewhat new development between Melbourne and Rockledge/Cocoa. It's a community of expansive Golf courses, picturesque ponds and lakes, and beautiful modern homes. The owner of one of these beautiful homes recently contacted Faux by Joyce for assistance in improving the personality of her home, whose walls were all white at the time. Joyce worked with the owner to identify optimum areas for accents, and eventually ended up making changes in almost every room of the house. The captioned photos below show most of the changes made, followed by a little extra at the bottom of the page.

This niche in the Foyer was Marbelized to highlight the Gold-framed momento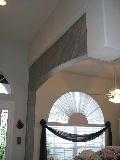 More Green-tinted Marbelization accents the arch between Foyer and Dining Room

Another Marbelized arch between the Dining Room and Family Room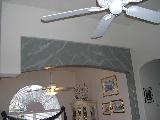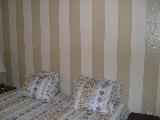 Stripes accent a wall in the

Guest Bedroom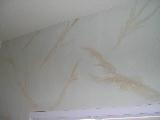 An entire wall was Marbelized in the second Bedroom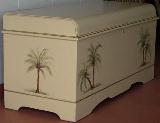 Front and side view - Click to get a Close-up view

Close-Up of Palms and

Gold trim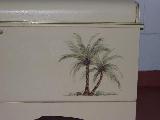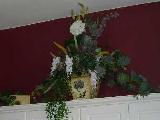 Painted kitchen a deep Red and added this floral arrangement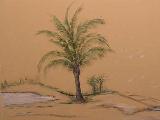 Added a mural in the

master bath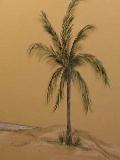 The other half of the

master bath mural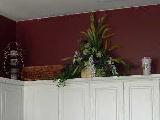 Added a second kitchen

floral arrangement