Faux by Joyce

... decorative and faux painting throughout the glorious state of Florida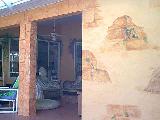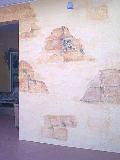 Click any picture for a Larger View!

Click any picture for a Larger View!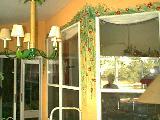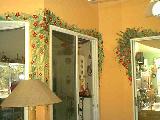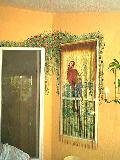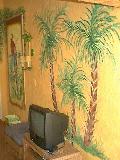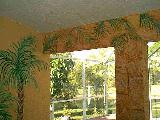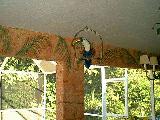 Below, a Palm Tree mural was created to adorn the North wall, then palm fronds were painted on the East exterior pillars and upper border. Trompe L'oeil was used on the pillars to create a concrete block effect.

The concrete block effect was carried onto the exterior shown below, with broken partial blocks on the large exterior wall. It may be necessary to click on the pictures to enlarge them sufficiently to fully appreciate the block effect on the pillar and wall.

The Agnew patio in Melbourne, Florida involved first covering the white walls with a soft golden color, then adding a mural and some Trompe L'oeil designs to liven up the decor. In the first three photos below, the left and center show the West wall toward the home interior, with vines that were added over each door and window frame. The right photo is the corner of the West and North walls, with the parrot bamboo curtain.