Faux by Joyce

... decorative and faux painting throughout the glorious state of Florida

In December 2003, we visited friends Wendy and Steve in Tallahassee. Wendy had several ideas for changes to her decor, but wanted Joyce's help in getting started. She and Joyce wandered through the home, coming up with ideas for the kitchen, dining room, and living room. They agreed on colors, accessories, and generally what should happen where. They also agreed that Joyce should kick things off with some dramatic changes to the alcove above the fireplace, which was painted the same light tan color as the rest of the living room walls. Joyce suggested a warm burgundy from the sofa, highlighted with gold sponging. Below, the before picture shows the alcove above the fireplace, TV, and knicknack shelves.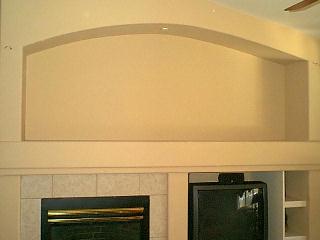 (Click Any Picture for a Larger View)

Below are a couple of views of the finished product. Joyce used a leaf-shaped sponge with a shape very close to the leaves in the sofa, then sponged around the leaves to create a highlight effect that changes depending upon the light and viewing angle. She then framed the alcove and entertainment area by marbelizing the horizontal and vertical "beams", as well as creating an arch over the top of the alcove.

Here's a close-up of the marbelized wall, where Joyce included a hint of the Burgundy color in some of the veins. She also marbelized in a manner to complement the grey marble that was already around the fireplace. The final effect produced a beautiful focal area that blends nicely with the existing colors and furnishings. CLICK ANY PICTURE FOR A CLOSER VIEW!